Being that Collective POP is a sight dedicated to your fan obsessions, headlining in our own love for POPs. We decided to do a spotlight on a collector of our choosing. Meghan Piro seemed to be fitting for our first interview, since she has a rather large Funko collection reaching over 2100 POPs! Her love and obsession for POPs has become a beautiful hobby that we are excited to share with you. Not only does she have a rather large collection, but she has only been collecting for a little over a year now. Proving to us all just how fast the love of collecting can take us over. We hope you enjoy our interview with Meghan and some photos of her colossal collection. We are warning you though, the jealousy may overwhelm you!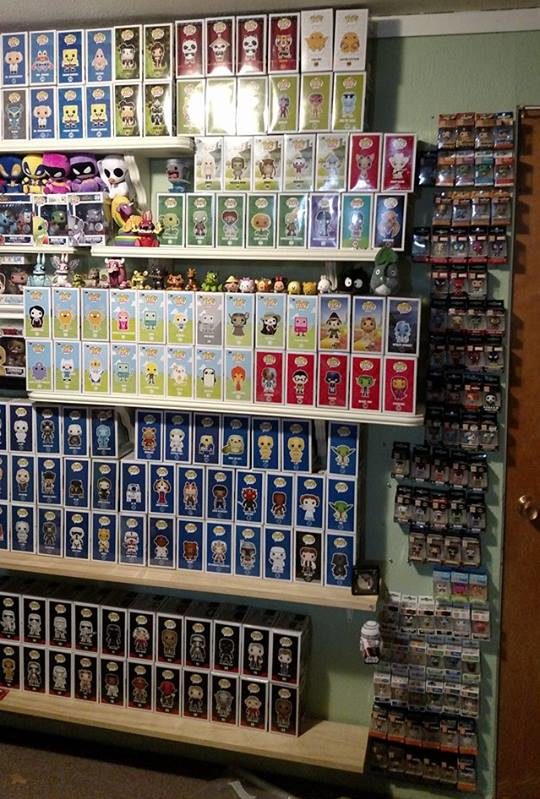 Take a look at our interview with her and more photos below.
How many POP figures do you have? How many Funko products do you have?
1427 Pop's and 2147 Funko products
Are you an in box or out of box collector and why?
I am both. I keep and display my Pop's in the box but have taken some out to "play" with and take pictures. The reason for in box would be room and value.
What got you into collecting POPs in the first place?
My coworker told me about them but I didn't think anything of them until I went to Hot Topic on lunch with him one day and really looked at them.
What is your favorite POP?
My favorite Pop's are Ghost Rider, La Muarte, Punisher, Disney, Murloc's from World of Warcraft, Regular Show, the list goes on.
What are your rarest POPs?
My rarest Pop is my Silver Superman for being a Hot Topic employee contest.
Do you remember your very first POP? How did you feel when you got it?
I actually bought Chewbacca and Predator for my boys Easter baskets last year. They got them and were not interested so I kept them and started to accumulate. They tease me that those still belong to them but they are totally mine. I didn't think much of the Pop's when I bought the first two but when I went back for more I had to have them all.
What do you love most about being a collector?
I love my fellow collectors and the friends I have made in the past year. I love the hunt of finding rare ones and the feeling of happiness when I get to add a new one to the collection.
How long have you been a collector?
I have been collecting since Easter 2015.
Do you collect anything besides POPs and Funko products?
I collect figural keychains, other vinyls, tsum tsum and some random stuff. If I like the item I usually buy it.
What are you favorite fandoms to collect?
I love the Disney line and Star Wars those are the two collections I want to have every Pop of but I am very fond of all of my toys.
What are some POPs you are really hoping Funko will make?
I desperately need a Prince Pop. Many variants of him and a Pop ride with the Purple motorcycle.
Another line would be the Amazing World of Gumball, Looney Toons Pepe Le Pew, Ice Age, I have a long list.
Are there still specific POPs you want in your collection but just can't seem to get your hands on?
I am really close to having every Disney and Star Wars Pop but the harder to find ones and older ones are very pricey so I will be saving for one at a time.
Do you have any great collecting stories?
I love when there are special events at stores and you meet and get to mingle with fellow collectors, I love when others are willing to help you out for instance when I needed the Haunted Mansion Pop's and a fellow collector in my FB group was willing to go get them at cost plus shipping.
Any advice for newbie collectors wanting to get into the obsession?
My advise to new collectors is to be patient with new items that come out you can end up paying more than needed to get what you want. Be kind to one another and help each other out. Most importantly have fun!
(Click images to enlarge)
Here is a list of Meghans ton ten highest valued POPs!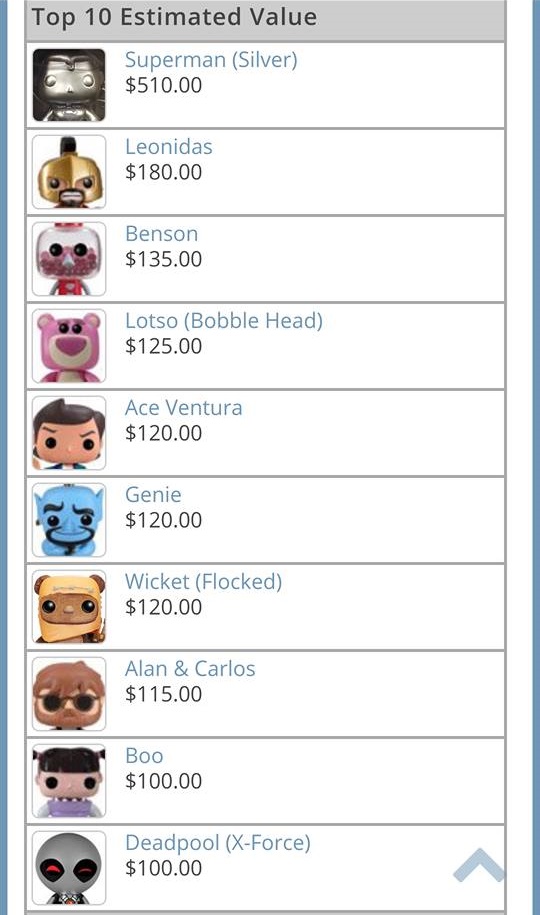 WOW! What an incredible and even drool worthy collection! Hey Meghan can we get our hands on that Genie? Promise we'll give it right back. Whether you are a POP collector, or find yourself drawn to other types of fan-based items, there is no denying that Meghan has quite the remarkable collection.
What is your favorite part of this fan spotlight? Let us know in the comments below. If you feel like you have a collection worthy of a Collective Spotlight, let us know! Contact us through Twitter or email us at CollectivePOPFans@gmail.com. Happy Popping!