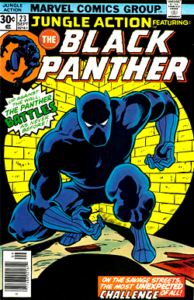 With the upcoming Captain America: Civil War film, many funko hunters are eager to get their hands on their favorite Captain America: Civil War POPs. One of the newest and most exciting of these POPs is the Glitter Black Panther Walmart Exclusive. We all know that Walmart can be a challenging place to find our POPs. Many of the stores do not even get our favorite exclusives, while others sell out so quickly that we never even get a chance to see them. This eagerness to collect can often make the hunt for certain exclusives rather frustrating. But there is nothing like finding one of those desirable POPs that we have been waiting for.
Black Panther has already had two POPs released for the new Civil War movie, but this third proves to be a rather intriguing variation. At first I must admit I was skeptical about the release of a Glittered Black Panther POP. Glitter? I mean are we serious here? It is basically taking the exact same POP as before and just sprinkling some sparkles over the top of it. But after getting my hands on one of these treasures, I realized I was very wrong. Not only does the glitter draw my attention, but the POP itself is a much more interesting texture than the regular shiny Black Panther. It is more of a gritty matte figure with a sparkling tint to it. It makes for something very interesting and I must say I am in love with it.
This POP is definitely one you want to add to your collection, not only because it is aesthetically gorgeous, but also because of the backstory of the character. I must admit I wasn't the most knowledgeable person when it came to Black Panthers story-line, but after reading more about him I am very intrigued. Not only does he have the incredible skills similar to a cat, with heightened senses, superhuman strength, speed and agility- he also is of genius level intellect. The more I read the more impressed I became, not to forget the fact that Black Panther is the fist black superhero in mainstream American comics. So he is a pioneer of his time, with a rather impressive list of skills and abilities. This POP is quickly becoming one of my favorites, and is getting me even more excited for the appearance of Black Panther in the upcoming Captain America: Civil War.
Photos of the Glitter Black Panther do not do it justice, but I must say they do look pretty good.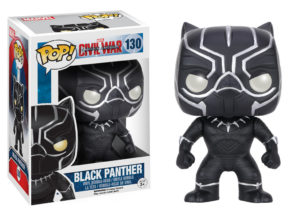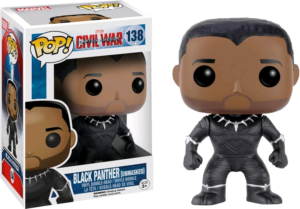 Above are the original Black Panther and the Black Panther (Unmasked) Walgreen exclusive.
Make sure to search your Walmart's for one of these amazing POPs, we may even be doing a giveaway for him on our social media accounts. Stay tuned and follow us on Twitter and Facebook. Let us know what you think of the Glitter Black Panther Walmart Exclusive in the comments below! We love to hear your feedback.