Top 10 Most Expensive Disney Trading Pins
Disney is a magical place, and anyone who appreciates it knows what an amazing experience visiting the parks can be. Disney is also popular with collectors, since they have so much excellent merchandise available to be purchased and enjoyed. Many Disney fans are also people who collect Funko Pop!s, since Funko offers so many well-crafted Disney figures. Disney has so many different collections, which can become quite the obsession for avid collectors.
Something exciting that is popular at the Disney parks is also Disney Trading Pins! Disney pin trading was introduced in 1999 as a part of the Millennium Celebration, and after that the obsession began to grow. The parks now offer many different pins, some of which are sold with a limited run. Something that is fun for kids (and adults alike) is that many of the cast members at Disney actually wear lanyards and offer trading to guests at the park. There are a fair set of rules that must be followed, but in most cases the cast members cannot deny a trader if they offered with a presentable pin to trade. This makes it a fun experience and exciting if you discover a cast member with a pin you desperately desire. It is meant to be an enjoyable experience, and not something aggressive or obnoxious.
While trading at the parks is truly enchanting, there are also many rare pins out there in existence. What is it that qualifies a pin as rare or hard to find? Well many of the rarest and most expensive pins are ones that were released for events with an extremely limited run. Some of these pins only have 200 in existence, and any collector knows just how small that number really is. There is really no exact method of figuring out the monetary value of a rare pin, since there is no page or website solely dedicated to pricing them out. The best way to figure out what they are selling for is to look through various resale sites recently sold listings.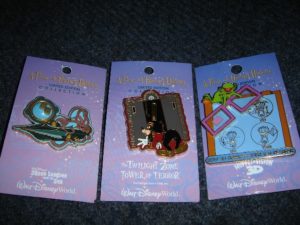 The Disney Piece of History Pins- This set is extremely rare and some of them can sell for thousands of dollars! They are difficult to find but even harder to get your hands on, since the prices for one pin can be a few hundred dollars, some selling for thousands.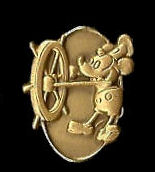 Steamboat Willie 50 Year Service Award Pin- This is awarded to cast member for 50 years of service and actually is supposed to include a diamond. This is extremely rare and has been seen selling for close to $5,000.
Expedition Pins- Dream Jeweled Mickey Mouse- This pin was an extremely limited release and includes real gemstones, making it very valuable. The original cost of this pin was released at $1295, making the likely cost even higher now. Sincere there were only 3 of this pin ever made, it is probably one of, if not THE rarest Disney pin out there!
Year of the Tiger Mystery Set Mushu- This pin was limited to 25 and is extremely rare! It is listed on selling sites for over $1,000, but is so rare it is hard to track the actual value.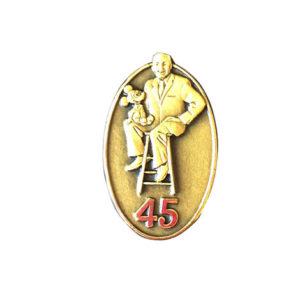 Cast Member 45 Year Service Award Pin- This gorgeous golden pin features Walt Disney sitting with Mickey on his knee. It is only received by cast members and is extremely coveted. It sells for close to $1000 on some sites.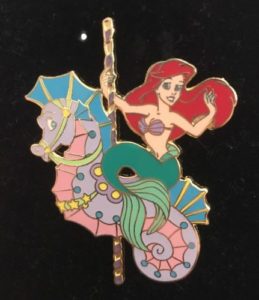 Ariel with Carousel Limit 100- This pin is rarely seen and can be seen listed for over $1000. While some pins have smaller numbers, this one seems to be harder to snag.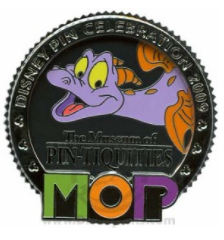 Dinsye Pin-tiquities Framed Set- The Figment Collection- The event Disney Pin Celebration 2009- The Museum of Pin-tiquities was a three day event held at Epcot. Events are some of the best ways to score truly rare and valuable Disney pins, and this was no different. This pin set now seems to sell for well over $300, and was limited to a run of only 75. It includes four adorable Figment pins in different framed settings.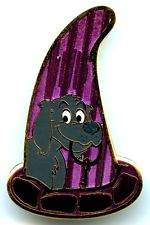 Sorcerer Hats Mystery Pin Collection- Pirates of the Caribbean- Dog with Jail Keys (Gold)- This pin is limited to just 50 and seems to sell for between $70-$150 on listing sites.
Happy Haunts Ball 2004- Ghoulish Gatherings- Madam Mm Pin- This is limited to only 15 and is ultra rare! It is difficult to set a price on it, since there are few listing available. When pins are so limited it becomes rather hard to find them, and even harder to put a price value on them.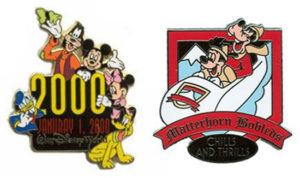 Error Pins- While Disney tries to make sure everything they create is done with the utmost care, some mistakes slip through the cracks. Error pins sometimes feature misspellings, or slight mistakes in their creation. Some of these pins are so rare that collectors actually want them, and they can sell for hundreds to thousands of dollars!
It is nearly impossible to place a value on some of these pins, but we do see them selling for some rather high price points. Disney pins are incredible desirable, and some of the smaller limit ones are difficult to snag. When there are only so many of them out there, the few people who possess them are lucky enough to set the market. Good luck searching for those rare pins!